Whether you're a bikini loyalist or have embraced this year's one-piece trend, Vogue has put together all the keys to finding your perfect summer swimsuit.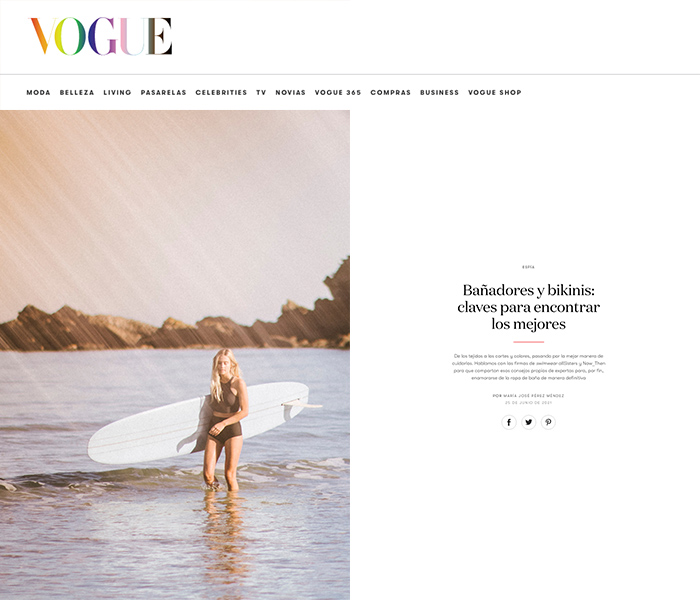 Vogue editor Maria José Pérez talks to our Creative Director, Andrea Salinas, about the tricks and inspirations when it comes to designing swimsuits that are also sustainable, flattering and durable, so you can enjoy them beyond a season.
Vogue: What materials should be sought to ensure the quality of the swimsuit (and the ones you use in the label)?
NOW_THEN: Recycled nylon or polyamide combined with a high percentage of LYCRA® XTRA LIFE elastane that provides swimwear fabrics with greater durability and resistance to chlorine, saltpeter or the sun, elements that damage them the most. Something important that labels do not always show is the origin of the fabric. At NOW_THEN we use Italian, Spanish and French premium fabrics, which ensure high quality. Between a good European fabric and an Asian one, there can be a price difference of up to 20 times and that translates directly into how long the swimsuit can last.
V: What role do new sustainable materials play here? Do they perhaps offer higher quality standards?
N: The challenge of recycled materials is to achieve the same quality as those made with virgin material. In our swim collection we use regenerated nylon ECONYL® that through an upcycling process of materials such as fishing nets or other plastics, manages to obtain the same raw material, some plastic "flakes" that melt to create the thread of nylon that will shape premium fabrics of the same quality as a non-recycled one.
V: The question does not have a correct answer but in general terms, swimsuit or bikini? What advantages does one have over the other?
N: The basics such as the triangular bikini and side-tied bottoms and the minimal one-piece monochrome swimsuit. All brands have more or less these models, always because there are clients who, no matter how many trends there are, always demand them. I think that when it comes to being favored, color is also important. This year I love the palette of warm colors and sorbets that we have worked on at Now_Then, I think that this summer more than ever we need color that will raise our mood a little.
V: In general, is there a styling key that works for (almost) all bikinis and swimsuits?
N: We put great efforts about how our swimsuits are made inside, which is usually the most forgotten part but the one that we wear close to the skin, since we cannot forget that swimsuits are intimate garments and just as complex if they have to be done well than a corsetry garment. We always use interior lining made without seams to avoid marks on the skin and we use a special fabric with a shaping effect that sculpts the figure but is light and very comfortable to wear.
V: What is the perfect bikini pattern like?
N: I think we would have to talk about the perfect bikini for each body, but we could summarize it in the woman who looks for the "less is more" and in this case I would lean towards a curtain or triangle bikini and panties with a bow with a minimal cut, and for On the other hand, who is looking for a little more coverage, and in this case I always recommend a high-waisted bottom that molds the figure. For the top, the halter neckline is one of the most flattering because it visually lengthens the silhouette and is effective for those who need extra support.
V: What kind of necklines never fails in a swimsuit?
N: Triangular necklines are the most flattering, but since right angles don't work very well in a bathroom, I always work a lot to round them up. For example, this year we have launched a new minimal swimsuit, the Aridane onepiece, with a rounded V-neckline that we had a hard time achieving by working the curves and it has been very beautiful and flattering; in fact, it is being the favorite of this collection.
V: Is there a bikini and swimsuit pattern that helps to visually lengthen the legs?
N: Definitely the high hip cut that is characteristic of 80s swimwear. Surely Elle McPherson photographed by Gilles Bensimon may come to mind with those extra long legs and a killer body, but it really is an infallible trick that favors to anybody.
V: With regard to colors, better plain or patterned, especially if you are going to buy online and you do not have the possibility to try?
N: Years ago the prints and marked colors reigned, I do not know if the boom in online sales has to do with this, but I think that the aesthetic goes more towards more minimal silhouettes, plain colors and monochrome looks that give more elegant and timeless garments, a key also so that the garments age better and make us fall in love for a longer time.
V: How do you combine the timelessness of a good swimsuit with trends? Can a very marked design age worse in the closet than a more classic one
N: I think that swimwear is very free and many women buy the type of bikini that suits them more than because it is fashionable. But I would advise any client to buy a design that favors her and avoid being carried away by passing trends that she will no longer like next summer, especially in very marked fabrics or colors. A good swimsuit should be for life.
V: What trend have you detected as essential for this summer 2021?
N: It is being a very season of one-piece swimsuits in mono or bicolor tones and in bikinis, especially those with high-waisted briefs.
V: The correct maintenance and washing of a bathing suit also greatly influences its longevity. What would be the correct way to treat them so that the fabric remains as intact as possible?
N: The best way to extend the life of our favorite swimsuit is not to leave it wet for too long, but to wash it by hand when you get home, never in the washing machine, do it with a little mild soap, without draining too much and dry it in the shade to prevent it from sun damage the color. Once the season is over or if we have to put it away, cloth bags like the ones we created this year in cotton, in collaboration with an ethical workshop in India, are great. So we can keep it intact for the following seasons.
Many thanks to Maria José Pérez and Vogue Spain !
Read the original article by Maria José Pérez for vogue.es